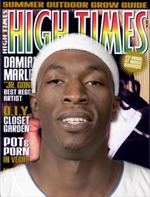 Another day, and another set of Raptors trade rumours.
The latest? Raptors trade AP and Bargnani for Josh Howard.
Do I love this deal? Hell yeah, but at the same time, do I think its going to happen? Only if Mark Cuban and Donnie Walsh lose their minds (and if they are already smoking enough crack to give up Howard for Andrea, maybe they'll throw in a 1st rounder too!).
Bosh, Jose, JO, and Howard is some serious sickness as the starting five. Of course, this deal might mean that we may have to play the corpse formally known as Stack as our SG (assuming BC can rid the Raptors of Kapono as well), but who cares! As an added bonus, BC seems to be on board with bringing back Mr. Delfino as our 6th man (thank you financial crisis, gotta love it when the Russians run out of money, and can't pay their players, hahahaha).
I know, I can hear the haters now: "Andrea is the future, he has so much promise, we can't trade him!". You know what I say to you? Andrea is NOT the future, and while he might actually still develop into a half decent player, the Raptors are getting JOSH HOWARD!!!!!
What would this deal mean for the Raps cap space you ask? Well, have no fear, the Raps will still have plenty of space for the Summer of LeBron. Josh Howard's going to get paid $11.4 million next season, and he has a team option for $12.3 in 2010. Which means, that the Raptors improbably have an opportunity to get rid of him (if this trade goes to shit) at the same time we are saying good bye to JO. What does $32 million of free cap space during the Summer of LeBron get you? I don't know, but my brain hurts just thinking about it!
BC for the love of God, if this deal is for real, please pull the trigger, just do it, don't think about it anymore, Dallas might come to their senses sooner rather than later.
Quick Update: Good Ol' Dougie Smith from The Star doesn't think this deal is going to happen (http://thestar.blogs.com/raptors/). By the way Dougie, Hoopsworld is reporting that Toronto wants something else OTHER than just JHow, Brandon Bass perhaps, why do you have to jump to the conclusion that its Diop? Did you even read the link? How come I am better at your job that you are? I digress, based on Dougie's track record ("There is no way that Sam Mitchell is going to be fired"), this deal must be COOKING. Let's hope Dougie is wrong AGAIN, and you can bet that I am going to make the same mistake that Tex made when the Leafs traded for Owen Nolan!
Quick Update #2: Colangelo crushes my dream of having Howard on the Raps - http://www.hoopsworld.com/Story.asp?story_id=11152 - now the question is, when will JO be moved (where's there's smoke there's fire!)